So you're looking for a UX audit.
Maybe you're a design lead yourself. You're overwhelmed, toting a laundry list of priorities, managing up … managing down … managing cross-functionally. Heuristic audits (whether it's auditing a feature, or an entire product) and usability studies are things you could do yourself, but time is your scarcest resource. You dream of buttoned up deliverables, delivered to you on a silver platter: ones that supplement your team's priorities, ammunition that helps you promote your larger strategy and vision. You're ravenous to find a hired gun who is receptive to feedback (design divas need not apply), but also has the hardcore skills and chops to get it done while you're busy frying bigger fish.
Or maybe you're the Chief Product Officer type, a few weeks into your new gig. You've got a lot on your plate, too … but the elephant in the room is, quite sadly, your new product's UX, and it's limiting the product's potential. It's not just your cringeworthy NPS scores: you've experienced your product's shortcomings first-hand, and you need a Seal Team Six caliber team to get those fixes and improvements identified and executed, fast.
Or maybe you're the jack of all trades C [E/O/T] O of a fledgling, pre-funding startup with enormous potential and upside, but at this juncture, you simply can't afford a full-time UX hire. Among your many hats, you've been donning that of the designer, but it's one you never asked for … and one you're craving to pass on. The idea of a trained team descending into your office (or Zoom meeting), equipped with an arsenal of UX tools (whiteboards! site maps! user flows! wireframes! usability studies!) is music to your ears.
We are Studio Simpatico. We are that team, we'd love to help, and we'd love to answer some frequently asked questions about our UX audit services.
Why start with a UX audit? What value does it add?
Early in our education, UX design pupils are taught (and junior UX professionals are scolded) to: Identify and understand the problems before you begin designing solutions. How tempting it is when you encounter a problem to bounce over to the whiteboard and sketch a solution! But rest assured: meaty research and patience to let the problem marinate will ultimately lead to juicier returns.
A UX audit is the perfect tool to provide clarity on the age-old boardroom question, "What problem are we solving?" Added bonuses include instilling empathy for users in cross-functional teams ("That user is miserable — MUST FIX BUG NOW") as well as gaining knowledge and details surrounding users' situations and needs (which in turn leads to rich blue sky feature ideation and prioritization).
How do you kick off the process?
We start with a deep dive: interviews with identified stakeholders (often product managers, engineers, designers, and customer support experts). We facilitate a conversation (with both prepared and ad hoc questions) that helps our team get a 360 degree understanding of the state of the union, including but not limited to:
The users (the context in which the product is used, their frame of mind and objectives, the role that the product is supposed to play in their lives)
The current product
The current roadmap
Overall timeframes and business objectives
Stakeholders' hypotheses
What stakeholders aim to get out of the audit
Armed with this information, we're in a great position to dive in and conduct the audit.
What's included in the final audit?
Our final deliverable to you is a report, usually delivered in the form of a deck (Google Slides is our typical tool of choice). Our heuristic audits include:
Explanations and ratings for identified usability problems – We'll point out (using plain English) where your product flows are inefficient, where patterns don't match the users' mental models, visual style inconsistencies, counterintuitive information architecture, problematic information hierarchy, confusing navigation, and more. Our team will also define and use ratings to rate usability problems according to their severity, which can help product owners and engineering teams prioritize fixes and implementation.
Competitive analysis – We're big fans of Jakob's Law. If you're unfamiliar: "Jakob's Law states that users spend most of their time on other sites. That's why they prefer sites that work the same way as all the other sites. For designers this means that it is always better to choose usual design solutions that are familiar to users." Thus, when relevant (i.e. when we spot an unconventional pattern or design likely to confuse users), we'll often identify common paradigms or conventions in other products as recommendations.
UX recommendations – Alongside our articulation of identified problems, we aim to provide easy to understand, elegant, actionable solutions. In cases where the UX solve is UI related, we may include low-fidelity wireframes to help convey the recommendation.
Does a heuristic audit include usability studies?
Our heuristic audit does not, but we also have a vast amount of experience designing and conducting usability studies. This type of engagement includes:
Working with your team to write a study plan which outlines the goals of the study, questions we want to answer, and proposed methodology
Identifying the criteria for participants
Author and distributing a screener questionnaire to recruit participants (we can either work with a user pool provided by the client, or in many cases, recruit via a service like usertesting.com)
Scheduling sessions
Facilitating the sessions
Distilling findings into a report
(optional) Creating a video highlight reel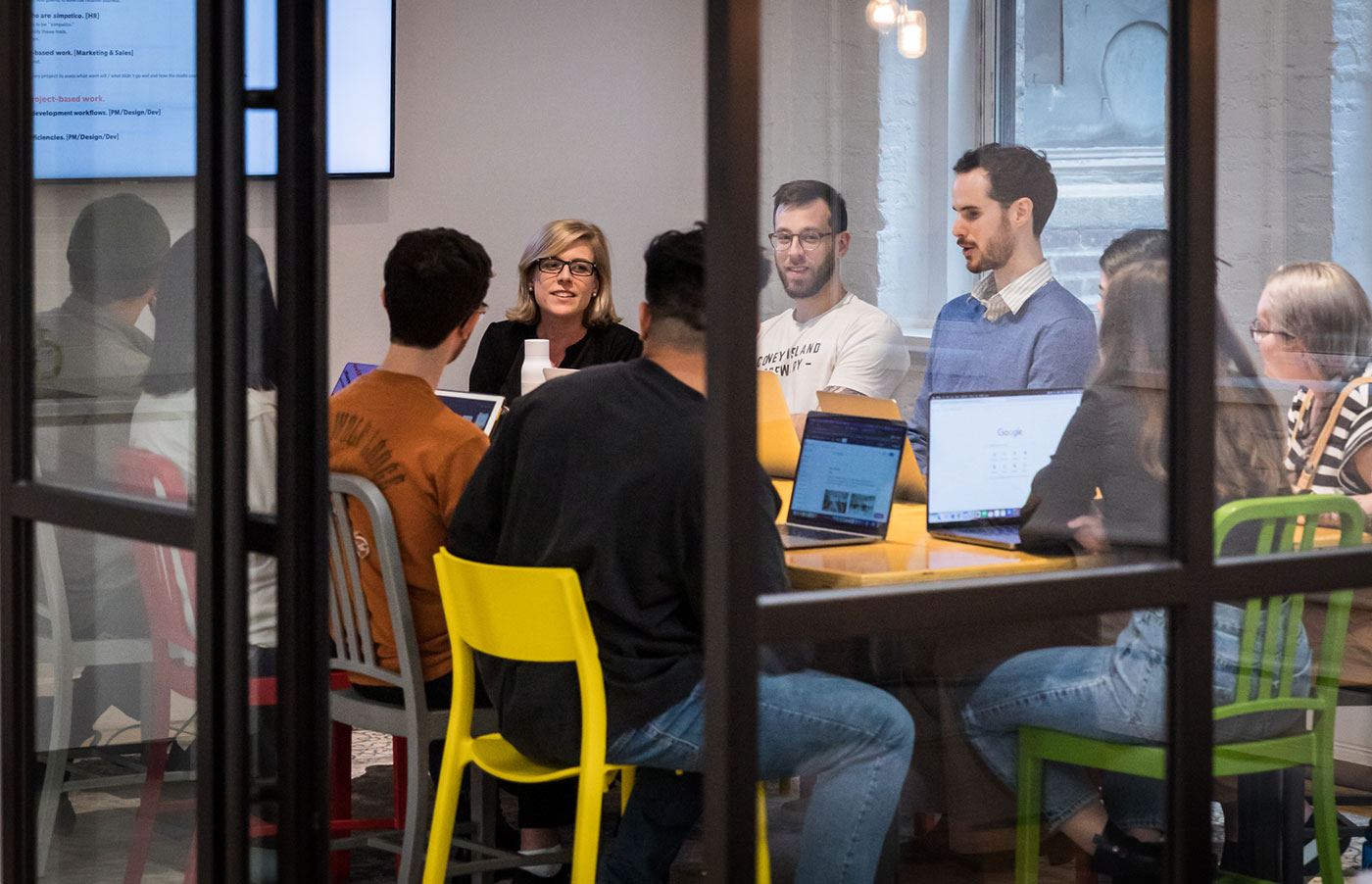 Who exactly would we be working with at Simpatico?
I (Tamara) lead all of our UX research engagements, including audits. I'm the owner and founder of Studio Simpatico. In addition to running day to day operations of the studio, I lead our intellectually curious, razor sharp UX and product team. If you're looking to engage the studio for UI or visual design, we'll pull in the artistic talents of our design team (led by Bruce).
I spent ten years designing and developing websites before pursuing a Master's from ITP, NYU's quirky design technology program. The curriculum supplemented my hard skills with a user-centered design philosophy: one that relies heavily on user research. Post graduation, I was fortunate to flex these muscles in the real world as a full-time designer at Google: first in Ads, where I was promoted to lead the UX design and research teams for publisher monetization products, and then for Google Classroom, leading product design from early concept to product launch. In this role, I conducted hands-on research in NYC classrooms with teachers and students, while partnering with engineering and product leadership. Since leaving Google, I've had the extraordinary privilege and the time of my life immersing myself in countless verticals, businesses, and teams, taking a deeply embedded approach and helping to improve products' experiences for thousands of users.
How would you describe Simpatico's approach to UX?
I'll start with what our approach is not: One size fits all. We don't have a standard template that we fill out. Conversely, we begin with a journalist's mindset, learning everything we can about your product and users.
Our overall style is open, consultative, intellectually curious, and adaptive; we are constantly triangulating our approach based on what we're learning, from both our stakeholders and users.
What typically comes next, after the audit is delivered?
Simpatico UX deliverables (particularly audits) are 100% designed to be actionable by external teams: We've supplied many audits to in-house design teams, who take our findings, recommendations, and run with them. However, if you like what you see and are interested in exploring next steps with our studio, we'd love to chat about that too. Like our audits, UX engagements are led by me (Tamara), whereas UI and visual identity projects are led by our phenomenal Head of Design Bruce Viemeister.
I'm sold. How can I see some of your past work? Or move forward with an engagement?
While the content of most audits is confidential (few clients are jazzed about us sharing where their UX falls short), we'd be happy to explain several of our past engagements, our methodologies, and show some redacted deliverables so you get a good sense of what you'll be getting.
We're stoked to meet you! Drop us a line at [email protected], or fill out our fancy contact form.